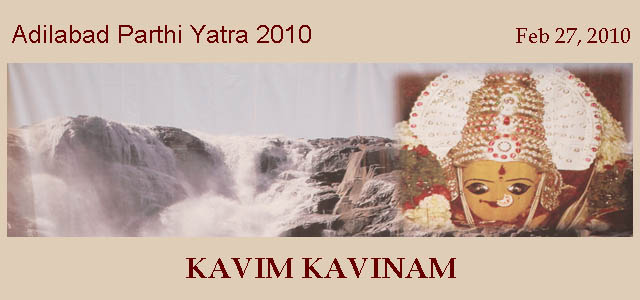 Posted at 12:00 Noon IST on Feb 27, 2010
On the evening of 26th February 2010, devotees from Adilabad staged a dance drama "Kavim Kavinam" involving illustrious personalities like Prof. Kasturi, translator of Bhagawan's Discourses, and who had written Bhagawan's Biography and other books, famous poet Karunasri and Ghantasala, whose evergreen melodies have become immortal and cast a spell on people to this day. The Divine parents Mother Easwaramma and Pedda Venkama Raju also played important roles in the drama. This interesting drama brought alive the characters of those days who had carved a niche for themselves in their respective fields. Bhagawan, the poet of poets wrote wonderful poetry to highlight the follies of villagers and to bring about transformation in them through the poems.
On this evening, Bhagawan came for Darshan at 5.30 to the chant of Vedas. At the outset, tiny tots and elders from the district offered their obeisance to Bhagawan. The drama began with salutations to Bhagawan in the form of a dance. The dance drama was an imaginative expression of an assembly of famous personalities who meet in Vaikunta in the presence of Devendra Indra, the Lord of gods. Each one sings Bhagawan's glory relating beautiful incidents of those days. Mother Easwaramma opines how one could forget the compositions and songs of Karunasri and Ghantasala on Swami. Ghantasala considers it was his good fortune to come into Bhagawan's fold and compose songs on Him. Pedda Venkama Raju becomes nostalgic when he narrates the incident in Bukkapatnam wherein Bhagawan composed a song instantly on the freedom movement of Bharat and about the downfall of ruthless dictator Hitler who was unknown till then to the innocent villagers of those days. Even the Britishers who were present in the congregation were stunned at child Sathya's wisdom and knowledge. The song runs thus:
Do not cry, my child, do not cry.
If you cry, you will not be called a valiant son of Bharat.
Go to sleep, my child, go to sleep.
Did you get scared because the terrible Hitler has invaded the invincible Russia?
Go to sleep, my child, go to sleep.
Do not cry, my child, do not cry.
For the Red Army is marching under Stalin.
They will put an end to Hitler.
Then what else is the reason for your crying?
Is it because the countrymen lack unity?
All the countrymen will unite and fight to win freedom;
Go to sleep, my child, go to sleep.
(Telugu Song)
Then Mother Easwaramma explained how Bhagawan exposed people's ludicrous follies in Puttaparthi through telling compositions. Here is the poem that Bhagawan composed:
What are these times that have descended on us!
Oh folks! What are these times that have descended on us!
The face powder has formed a cheap substitute for the turmeric powder;
Oh folks! What are these times that have descended on us!
Gold necklaces have given way to cheap trinkets and chains;
Oh folks! What are these times that have descended on us! (Telugu Poem)
Pedda Venkama Raju adds how Bhagawan brought about transformation in Karanam, the husband of Subbamma who had taken to evil ways through this poem:
Don't seek the company of women of loose character;
Surely you will fall down.
Your caste people will not allow you into their homes;
Your relatives will neck you out, if they see you;
Your friends will beat you with chappals,
If they see you in the company of such women.
(Telugu Song)
Karunasri and Ghantalasala eulogise Bhagawan's compositions and bring out the literary value in them. Prof. Kasturi sings a few poems of Bhagawan which impressed him.
The Lord of Kailasa has manifested his Divine form with the crescent moon adorning his head, the cool water of the Ganga flowing between the matted locks, with his radiant eye in the middle of the forehead and the purple neck gleaming like the sheen of a blackberry. He wears serpent bracelets and a snake belt, his entire body is smeared with Vibhuti, his forehead is adorned with a Kumkum dot, his ruddy lips glow with the juice of the betel, diamond-studded gold earrings dangle from his ears and his whole body glows with divine effulgence. (Telugu Poem)
He also explains and lists out the 16 Vahinis of Bhagawan. He says that lofty concepts were explained in a simple and lucid manner by Bhagwan in these Vahinis. Prof Kasturi says that Bhagawan explains the essence of the Vedas lucidly in His Discourses, he also laces His Discourses with Chinna Katha (a short anecdote) which has a succinct moral at the end.
Karunasri feels sorry at the sorry state of affairs of the world today. People relish reading newspapers, but they have no time to read Bhagawan's Discourses. At the end all the cast of the drama converged at the performing arena to seek Bhagawan's blessings. Bhagawan materialised a gold chain for the actor who played the role of Prof. Kasturi. In a touching gesture, Bhagawan gave with His own hands the spectacles to the cast who played the role of Kasturi (since the spectacles were removed when Bhagawan materialised the chain).
Bhagawan went amidst the participants and showered His love on them. Bhagawan even instructed that the cast be given clothes, Prasadam and Vibhuti Prasadam. Meanwhile, the devotees from the district rendered a few songs. The devotees took this opportunity to bless a few items which they would like to treasure like Siva Linga, photographs of Bhagawan and a Sarva Dharma symbol inscribed on wood. Arati was offered to Bhagawan at 7.20 p.m. after which Bhagawan retired for the day.
Over 3300 devotees from Adilabad district have come joining Parthi Yatra 2010.