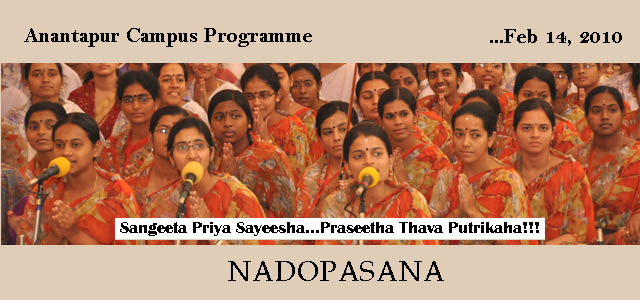 Posted at 10:30:34 Hrs. IST on Feb 18, 2010
After two successive drama presentations by Brindavan and Prasanthi Nilayam campuses in two successive days on the 13th and 14th January post Annual Sports and Cultural Meet 2010, 15th January was the turn for Anantapur Campus to have its musical offering.
Following the trendsetters from Brindavan and Prasanthi Nilayam campuses the Anantapur Band Girls escorted Bhagawan from the Yajur Mandiram to Sai Kulwant Hall on that evening on 15th Jan supposedly belonged to them. And the music band was already seated ready with their offering.
As is the saying "Man proposes and God disposes…", Bhagawan had different plans that was not understood by the myopic vision of the ordinary. Bhagawan upon ascending the dais asked bhajans to begin and the girls from the Campus retreated pending the next best opportunity.
As graceful are these students, a unique quality with the students from Sri Sathya Sai University, they gracefully accepted the Divine Decree that came in His "silent inaction" surrendering at His Feet!
A month from that date, these students with their collective unified prayers made a comeback to sing His glory in His presence on the 14th Feb 2010 evening.
Offering a bouquet of nine songs that involved over thirty students the forty minute musical show was an apt testimony to their hunger for His Divine Presence.
Beginning with an invocatory offering "Sangeeta Priya Sayeesha…Praseetha Thava Putrikaha…", a song invoking His blessing upon His daughters, they began their offering with Nadopasana invoking Lord Ganesha. Ram Bajana Karo…, Brahmam Okate…, an intstrumental piece of famous Carnatic piece Nagumo…of Thyagaraja, Nada Tanumanisham Shankaram…, Pibare Rama Rasam…, to finally closing with the sports meet theme song, Sai Maa Pranaam…
On a day when the world outside celebrated International Valentine's Day, these graceful students found it most apt to celebrate it in the Divine Presence with outpouring Divine Romance, singing God's glory in His immediate Divine Presence, accepting themselves as God's Own!
As usual a host of initial offerings preceded the musical offering that included a CD release and some project offering. Immensely please with their offering, Bhagawan gave away a sari each to all the participating students before posing for a photo session.
The musical offering was followed by a bout of bhajans by the Anantapur Students before Arathi was offered.