Students and Sai Youth of Singapore, in an urge to present something unique in Bhagawan's Divine presence went back forty years, to July 14, 1966, presenting a thematic dance drama entitled "Bank Balance".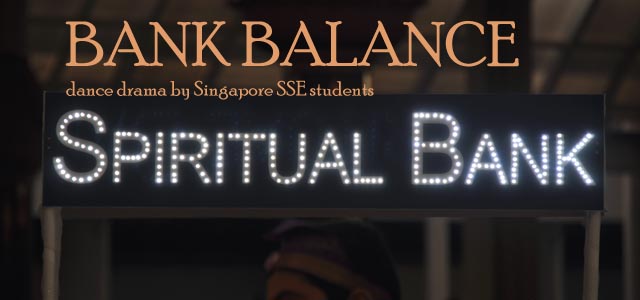 Posted at 11:25:00 Hrs. IST on 11 Dec 2009
More than 350 devotees from Singapore had come in two batches on a 10-day pilgrimage to Prasanthi Nilayam from 2nd December 2009. The group included youth and Bal Vikas children. As a culmination of their pilgrimage, the SSE students and Sai Youth of Singapore presented a programme "Bank Balance" in the Divine presence on the evening of 10th December 2009. Bhagawan came for Darshan at 4.20 p.m. to the chant of Vedas. At the outset, the organisers offered their obeisance to Bhagawan. An organiser after expressing his gratitude to Bhagawan for permitting them to stage a programme in His presence announced that the evening's programme was a medley of dance, dialogues and songs. He also prayed to Bhagawan to permit them to perform again in the year 2010.
The crux of the programme was taken from Bhagawan's Discourse delivered on 14th July 1966 on the occasion of the inauguration of a branch office of State Bank of India in Prasanthi Nilayam. After the cast of the drama sought Bhagawan's blessings, the programme began with a Chinese dance. The dancers made beautiful manoeuvres with Chinese hand fans and danced gleefully.
Singapore is a mix of multi-cultural, multi-racial, multi-faith society, with the main races being Chinese, Malay and Indian. The performance highlighted these aspects of Singapore through songs and dances interspersed in the play.
The storyline runs thus: A few youth convey their woes of having lost a lot due to global recession in spite of working hard for 3 years and making good investment in shares. Two Sai Youth introduce the concept of Spiritual Bank to these youth. At first the youth, who are worldly-oriented are puzzled about this new concept of bank. The Sai Youth explain the concept of depositing good thoughts, good words and good deeds in this bank. Worldly money comes and goes, but morality comes and grows in an individual. The currency accepted in this spiritual bank is the 5 human values of Truth, Right Conduct, Peace, Love and Non-Violence, of which Truth and Love have the highest currency denomination. Truth is the highest of all values and love is the undercurrent of all values. When one deposits these 5 human values in the spiritual bank by practising these values in one's life, God comes to the person's rescue by issuing an overdraft in times of difficulty and in bad times. At this point of time, a banner was displayed which conveyed that truth is the spiritual dollar. This interjection was an appropriate introduction which drove home the point.
The concept of Spiritual Bank was well illustrated through the lives of King Harishchandra and Mother Ahalya. King Harishchandra was known for the values he practised in his life especially the value of Truth. He always spoke the truth, always kept his word and never broke his promise. By adhering to the Truth at all times, Sathya Harishchandra made huge deposits in his account, using which he redeemed not just himself, but his wife, son and the entire kingdom. He scrupulously adhered to truth, come what may in his life, and that paid rich dividends at the end.
Though Mother Ahalya's deposits might not have been sufficient to get her out of a crisis, God showered His grace 'as an overdraft' to redeem her from a curse, due to her good deeds, good thoughts, good feelings, good company and constant contemplation on the name of God. Lord Indra tricked her by transforming his form to that of her husband Rishi Gautama. When Gautama saw her serving Indra, he flew into a rage and cursed her. But when he came to know of the truth, he pronounced that she would be redeemed when Rama, Lakshmana, Sita and Sage Viswamitra would pass her hermitage on their way to Mithila.
The next illustration was portrayed through the life of a mean and miserly person who led a happy life giving scant regard to the poor and downtrodden who came to his doorstep for succour. In his case, he was only drawing from the accumulated deposits he had made in his previous births without making any fresh deposits. As a result, he soon went bankrupt.
The play concluded with the Sai Youth encouraging their friends to follow and practise Bhagawan's teachings and to open a new bank account with the spiritual bank in order to lead happy and purposeful lives.
The Sai Youth Choir did a commendable job by singing a Tamil song, a Hindi song and a Telugu song to the delight of the devotees assembled in the Hall.
At the end, Bhagawan went amidst them and blessed them with a prolonged photograph session with all the participants, and even asked the organisers to distribute clothes to the cast and support staff. After the distribution of Prasadam and a few Bhajans, the day's programme concluded with offer of Arati to Bhagawan at 6.10 p.m.