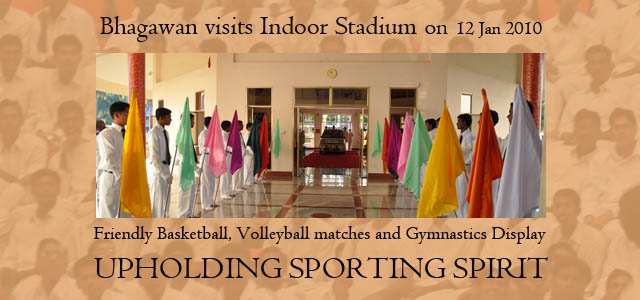 Posted at 0615 IST on Jan 13, 2010
A day after the Grand Annual Sports and Cultural Meet which has been astonishing and astounding the audiences who flock in from far and wide to witness it, there was a pleasing private sports display by His students to Bhagawan, on 12, January 2010 in the Indoor Stadium in Prasanthi Nilayam.
Bhagawan was welcomed at the Sri Sathya Sai International Centre for Sports by a troupe of Bhangra Dancers followed by a flag salute by another set of students. Even as Bhagawan descended from His car and entered into the indoor stadium, the Brindavan Brass Band was there welcoming Him with a sweet Bhajan.
The caretaker of the centre Sri Shivdev Singh gave a short talk about the successful running of the sports centre and the miracle of its construction at record time. This was followed by a display of exquisite gymnastics on Roman Rings performed by students and their coach Dimosthenis Tampakos of Olympic Fame from Greece. Dimosthenis was the gold medalist in the men's rings at the 2004 Summer Olympics in Athens with a score of 9.862 and also tied for first place with Jordan Jovtchev at the World Championships in 2003.
The Basketball game which followed was filled with thrills and spills. The exhibition match ended after 10 minutes with everyone begging for more.
At the conclusion of the match a special dance squad of boys gave a short yet thrilling dance display before the focus was shifted to the Volleyball court.
The 10 minute match had its fair share of smashes and subtle touches, incredible lifts and strategic passes. Bhagawan's students proved it again that they could not only coordinate and put up an event like the Annual Sports meet, but also compete with each other in the right spirit of the game standing up to every challenge.
Bhagawan retired after watching a short video clip on the evolution of sports in Prasanthi Nilayam done by Prasanthi Digital Studio.