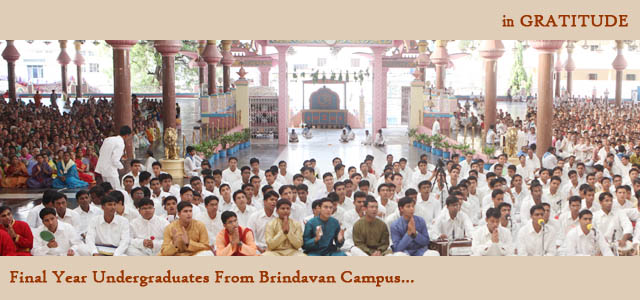 Posted at 15:08:22 IST on April 2, 2010
With yet another academic year passing by, Prasanthi Nilayam witnessed the last of the Gratitude Programme Series presented by the outgoing batch of undergraduate students from Brindavan Campus on the first day of the summer vacation, 1st April 2010. Undergraduate batches with specializations in Commerce, Biosciences, Chemistry, Physics and Mathematics from the Campus joined together in pouring gratitude for all that they have learnt and experienced during their three year stay in the campus that made them richer not alone academically but with overall growth giving new perspectives and vision towards life ahead.
The presentation had a rich mix of personal anecdotes that touched and shaped many a life, facilities provided by Bhagawan enriching their lives in the campus benefitting them academically and with all-round growth, greater vision they have achieved in life by being a part of Bhagawan's Mission et al.
Different tongues spoke in different languages, but with a common thread, heartfelt love and gratitude for Bhagawan. As turn-by-turn many students took the mike sharing their views, many stories unravelled, with some having life saving miracles to share, some having the thread of His all conquering love that transformed their lives and some others poured in with gratitude for teachers and facilities they were blessed with, the story went on that ended with one final skit depicting a significant Mahabharata episode involving Lord Krishna, Arjuna and Duryodhana.
Praying fervently to be The Charioteer of their lives, the skit was an apt illustration of how Arjuna preferred to have Krishna over the mighty army, while the wicked Duryodhana was more than happy to settle for the 'mighty army'. Enhancing their claim, the students had what Bhagawan Sri Krishna told Arjuna prior to the Mahabharata War: "it's only to become the charioteer of your life that I have taken birth…".
The programme interlaced with dances and songs, personal anecdotes and onstage interactions with Bhagawan lasted for sixty-five minutes that ended at 5:50. Bhagawan sat through the entire session watching the programme and towards the end of the programme He chose to interact with the casts of Krishna, Arjuna and Duryodhana while materializing a golden chain for the Arjuna character. Bhagawan blessed the three with an onstage photo session while blessing the entire contingent with double "Abhaya Hasta" before leaving for Yajur Mandiram.