Easwaramma Day in Prasanthi Nilayam
Evening Function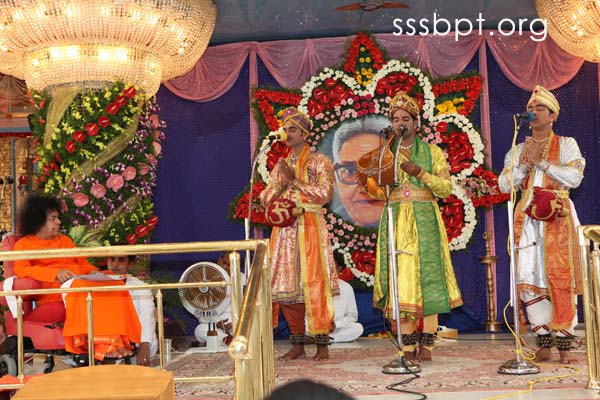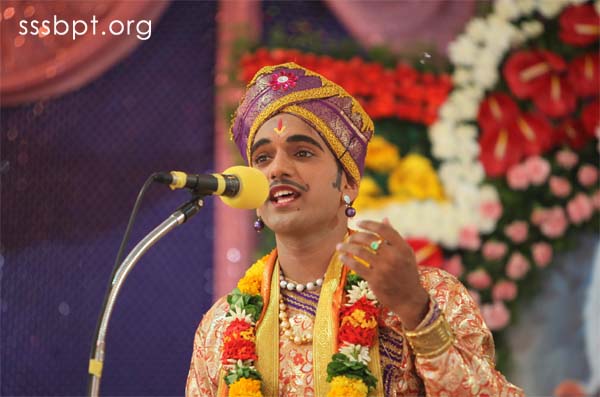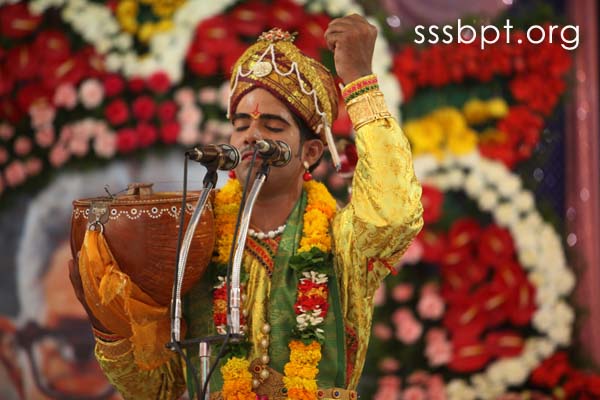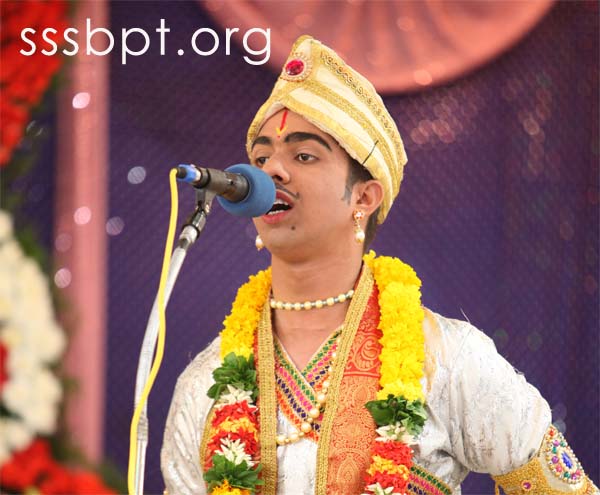 In the evening the stage was set for Burra Katha, a typical Andhra style storey telling format. Bhagawan came at 4:45 p.m., moved for a full round before coming on to the dais. The programme commenced with a traditional offering to Lord Ganesha, the remover of all obstacles.
As they started their song on Swami, each of them was garlanded. The song ran thus: "The words of Sai are verily the Vedas for the world …" The topic of Burra Katha for this day was Mother Easwaramma. Hailing victory to Mother Easwaramma, the students gave a brief chronology of events in her life. That she was born in the year 1890 to Sri Subba Raju. When she was only five years old, the family migrated to Puttaparthi. It was the good fortune of Mother Easwaramma that she could be the mother of Easwara (God) Himself. Her name now finds a place in the list of illustrious mothers of Avatars – Kausalya gave birth to Sri Rama, Devaki to Sri Krishna and Devagiriamma to Shirdi Sai. Bhagawan was born in the Ratnakara Vamsa (clan) to Pedda Venkama Raju and Easwaramma.
Continuing their narration, the students said, it was Subbamma who named Bhagawan as Sathyanarayana Raju. As a youngster, Swami used to give toffees and items of daily need to His classmates. When His classmates asked Swami as to where He got those articles from. Bhagawan used to reply that the Grama Devata (goddess of the village) was giving Him. The students kept their narration lively by interspersing it with songs and witty dialogues.
Switching their narration to Karanam Subbamma, they said Karanam Subbamma was the first wife of Narayana Rao. One day when Subbamma wanted to feed Pakodas to Swami, she saw all the fourteen worlds in His mouth as Yashoda saw in Lord Krishna's mouth in the Dwapara Yuga. Karanam Subbamma experienced great joy in serving food to the devotees of Bhagawan, they said.
Referring to the three wishes of Mother Easwaramma, the students said the present Sri Sathya Sai University, Super Speciality Hospitals and Sri Sathya Sai Ganga Water Project bore fruit due to the humble wishes of Mother Easwaramma. In those days, Bhagawan used to do Narayana Seva to the villagers of surrounding villages. He used to ask Mother Easwaramma to distribute clothes.
On this day in 1972, when the Summer Course was in progress in Brindavan, Bangalore, she left her mortal coil. When Swami was not physically present with her, she called out, "Swami, Swami …" And Swami responded, came to her, and she breathed her last.
The Burra Katha artistes said that though 37 years have passed, Mother Easwaramma is still ever fresh in everyone's minds. Recently in Kodaikanal, Bhagawan inaugurated a Pancha Loha statue (made of five metals) of Mother Easwaramma. The artistes concluded by expressing gratitude to Mother Easwaramma for those three wishes which fructified into gigantic projects.
At the end of their presentation, Bhagawan asked Sri B.N. Narasimha Murthy, Warden, Brindavan Campus to announce the names of the Burra Katha artistes – Sri Prabhakar, the main narrator, Sri Arvind Sai, the student responsible for the comic element, Sri Raghuram, who assisted in the presentation. This was followed by a brief bhajan session and Aarathi.