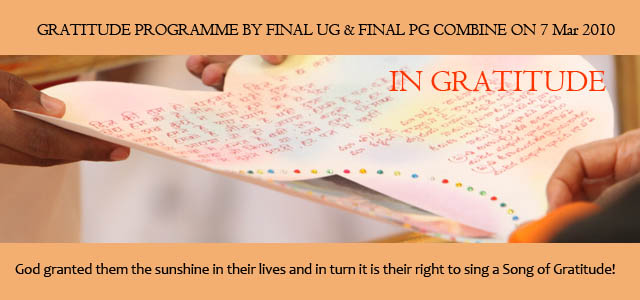 Posted at 13:46:23 IST on Mar 8, 2010
With advancing March comes the call for Thanksgiving. Pouring in gratitude for "making and remaking", "shaping and reshaping" , leading them unto the gateway to "Eternal Garden", student fraternity takes this opportunity to sing 'their' hearts out in collective gratitude to 'their' Beloved Swami, to whom they are eternally indebted for His unparalleled role of Divine Parent.
Coming up with the second programme in the Gratitude Series, students of "Final UG & Final PG" combine presented an integrated show in the evening on Sunday, 7 Mar, in the immediate Divine Presence of Bhagawan.
The proceedings began with a barrage of offerings including cake-cutting by various student groups. Beginning with the story of the beauty, grandeur and glory of His Divine Advent expressed through a Telugu song, these grateful students opened the floodgates pouring in gratitude galore with each and every student taking his turn to express what he felt deep inside by being with Swami over the years.
Does a mere "thank you" make sense, do justice to 'someone who traversed with us' all along? …asked these grateful students singing unto Him that In gratitude we have nothing to offer…we offer everything unto Thee…
Many who walked into the portals like an ordinary are now walking out of the portal becoming "something special", an achievement they credit to His immense grace and love. With Bhagawan we have become heroes. A barrage of gratitude speeches or expressions that followed echoed the above sentiment, as to how Bhagawan influenced their lives, remaking their lives to become what they are now, bringing in confidece to face the world as ambassadors of His Mission.
A scene from the Dwapara involving Lord Krishna, the Pandavas and Sage Narada followed drawing parallels between the five Pandava Brothers, who were effective instruments at the hands of Lord Krishna, and these grateful students who are the modern Pandavan donning effective role in Sai Mission.
Expressions and singing continued with students chose to speak in their vernacular reminiscing personal anecdotes that enriched their lives. Lighting the twilight to greater ecstasy, they sang in chorus,
In every moment of my life, please be with me
In every single act of mine, be Thou my Guide
Baba Sai Baba
When I slip, When I fall, lend me a hand
When I stray far away, bring me back again
Baba Sai Baba
From the darkness into light Lead me Father
From unreal into Real
Baba Sai Baba
Though the spoken language varied as many chose to express their heart out with vernacular touch, what reflected and what heard was the voice of the language of heart, pure love for Swami.
Adding fillip to the already charged-up mood, pouring gratitude, illustrating religious harmony, they danced to the tune of popular telugu number bringing nostalgic memoirs of the Shirdi Baba!
Interesting personal stories followed, highlighting what each one of them learnt from the subtle moves of Bhagawan, from their interactions with Bhagawan, from their stay with Him over the years. While one of the students learnt the greater lesson to "Utilise chances granted by Bhagawan, while being careful not to take chances with Him", another one had a personal experience from the primary school days that taught Him the "Omniscience of Bhagawan".
Expressing grateful thanks for the wonderful facilities, teachers, sister institutions that helped to mould them what they are today, they attempted to redefine the term "Chancellor", who with His all-conquering love granting them "chances galore"…One after one, many a student popped up to spell out what this unique Chancellor has done for the student fraternity, right from giving safari pieces to attending a sports match in the indoor stadium, right from blessing on birthday occasions to cure them during days of ailments, right from solving family problems to infusing greater confidence in leading a life worthy of His message, He has ever been granting that "smile" in His 'attempt' to bring a smile back in their faces by His 'action galore'.
Lucky are these students as they get the rarest privilege to "yell" at Him with their hearts full of love, WE LOVE YOU SWAMI, sitting right at His Feet!!!
The one- hour-programme was followed by an exclusive, extensive photo session as different group came on stage to pose with Bhagawan. Prasadam was distributed to the entire assemblage of devotees.
Earlier Bhagawan was ushered in to the hall at 5:40 pm to the chants of Vedas. Before commencing the programme, Bhagawan blessed a group of students, enacting the Mahabharata part, in the bhajan hall. Programme commenced at 6:10 pm and lasted for an hour. Arathi was offered at 7:25 pm before Bhagawan retired to Yajur Mandiram at 7:35 pm.
At the end "gratitude' was ringing in many an ear as these students made it a precise practical demonstration of the art of "Thanksgiving" to the Almighty! God granted them the sunshine in their lives and in turn it is their right to sing a Song of Gratitude!