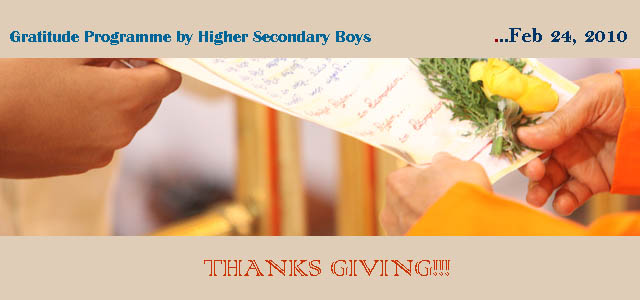 Posted at16:00:04 Hrs. IST on Feb 25, 2010
If anyone wants to know the art of expressing gratitude, you are welcome to Prasanthi Nilayam during this Feb-Mar season to witness the saga of Gratitude Programmes. Come March and there starts a barrage of gratitude programmes by the grateful students of Sri Sathya Sai University and Sri Sathya Sai Higher Secondary School. These programmes are expressions of greater love and affection towards Mother Sai for His benevolence in marking and moulding them to become worthy instruments.
On the 24th Feb evening, two passing out batches from Sri Sathya Sai Higher Secondary School, 10th and 12th standards, were ready with their offering, a bouquet of songs interspersed with interesting miracle stories from the lives of students.
Starting with a group song expressing love and gratitude, these boys began from a flashback making a reference to Mother Easwaramma's simple wish to have a village school that has grown into a gigantic educational institution as is seen today.
Interspersed with commentary bringing life saving and savouring miracles, from their own lives, these children from the higher secondary school were declaring in no uncertain their greater love for Mother Sai.
With barrage of students, in pairs, coming on to Him seeking blessings at every interval, there popped up students one after one with mike narrating lives that were blessed with His Divine touch. ...And they had rare words of appreciation for their teachers and wonderful facilities at the school.
Worth mentioning is an interesting episode during a 12th Standard CBSE Board Exam wherein the Invigilator came from outside was very much pleased with the disciplined well-mannered boys; having pleased he passed a positive comment, certifying the boys, "Boys here are God-fearing" and pat came the correction from one of the students, "Not God-fearing Sir, God-Loving"!
There were stories of fervent prayers meeting with answers infusing joy, desperate situations turning out to become blessed moments, Moments of grief turning to moments of awareness of greater joy, Unanswered calls finally yielding to bear fruits getting results in action, Silent prayers reaching out to the Lord to get Divine reward. The blessed twilight had stories galore, snippets of His Divine Love that touched many a heart and soul reinvigorating lives with Sai filling and fulfilling their hearts, minds and souls.
In unison they echoed their love for Bhagawan, crying out," We Love You Sai" making it evident that these rare brand of students are not "God-Fearing" but are the finest version, "God-Loving" ones.
Towards the end of the forty five minutes programme, they prayed:
Keep Us with You, Forever…Forever…
We Want You Swami, Forever…Forever…
We Love You Swami, Forever, Forever…
They ended up with a final group song spelling out their love and dedication at His Lotus Feet. They even had a song of dance for Swami, dancing to the tune of the famous song, "Kanula Mundara Kadali Aade Karuna Roopamu Neevu…". At the end of the programme Bhagawan moved down the dais to bless the wards with a coveted photo session.
Earlier the programme started with the usual touch of uncertainty. On a scheduled evening when these children were ready to perform, Bhagawan came out at around 5:50 pm for a complete round…It took longer time for Bhagawan to reach on the dais as He chose to speak and bless selected senior devotees and some staff members before making Himself available on the dais. Even as the boys were waiting, Bhagawan sat on stage listening to the Vedam till 6:45 pm before calling for Arathi.
When the uncertainty seemed to have cleared and Bhagawan was expected to retire, He gave the Divine nod! …And the boys were in all smiles to grab the Divine providence that became doubly sweet with Bhagawan made them taste the beauty of "Loving His Uncertainty"!
Chennai based ace percussionist Sivamani was seen seeking Divine Blessings on the blessed twilight. A large group of devotees from Adilabad, come on a Parthi Yatra, are camping in Prasanthi Nilayam.
Amidst the thanks giving there was a rare piece of greater practical awareness. Quoting Bhagawan one of the narrating students said, "we should not thank Bhagawan as Bhagawan has said that "Thank You" is always aimed at third person". What we witnessed was an outpouring of gratitude to Divinity within!!!