Published on Sunday, Oct 10, 2010 at 1726 IST
Selecting a theme, the Glory of Motherhood, that is so dear to Bhagawan, twin states of Bihar and Jharkhand came up with a colourful dance drama presentation entitiled "Maa" on the evening of October 5, 2010 in the immediate Divine presence.
As Bhagawan took to the dais at 1750 hrs., the programme commenced with initial blessings followed by an announcement by the State President. Speaking about the programme, the State President made a mention of the greater enthusiastic participation of former students of Anantapur College for Women, in the twin states.
Mother is referred to as "Shakthi" and the programme began showing Shakthi Durga's manifestations into five mothers, namely, Veda Mata, Bhu Mata, Gau Mata, Desha Mata and Deha Mata.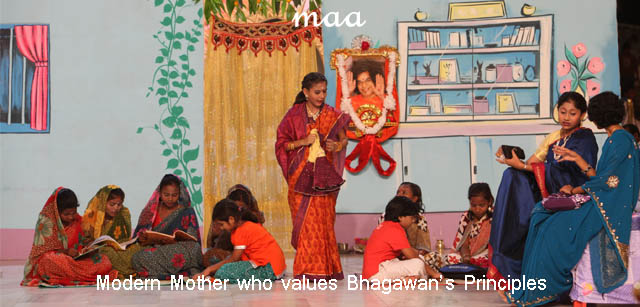 Parading through each of the four yugas, beginning from Sathya Yuga, the programme presented illustrious mothers of great culture and character, highlighting the glory of Motherhood. Presenting anecdotes from the lives of Queen Madalasa of Sathya Yuga, Mother Sita of Treta Yuga, Mother Draupadi of Dwapara Yuga and Mother Putli Bhai of Kali Yuga, the fifty minute dance drama moved on to a contemporary scene, wherein deluded young women with high academic qualifications were hankering after name, fame and money. Portraying the protagonist, a mother who values Bhagawan's principles for modern women, the presentation echoed Bhagawan's message of dignified living adhering to values.
Though she appeared strong, the protagonist was plagued by doubt when a couple of her friends came in with lucrative offer to join a multinational, that could earn her high salary. With a wavering mind, muddled in confusion, she prayed fervently for Bhagawan's guidance. Getting the right message from Bhagawan that indicated her to stay home taking care of her children and using her education to bring them up along the path of Truth and Righteousness, she was free from all fear and doubts and thus could turn away the offer.
The loving Mother who takes care of her children as well as children from the neighbourhood, imparting value lessons, was a revelation to her 'modern' friends. Coming to know of her Lord, Sri Sathya Sai, the motivational spirit behind her success, her friends were too happy to join hands.
Reference to Bhagawan's Anantapur College in character building, laying foundation to Motherhood Principle, was made before the concluding scene depicting the most celebrated revered Mother Easwaramma.
Tiny tots from the twin states ended the colourful presentation with a refrain, "O Sai Maa, We All Love You!". Entire crew of participants, Balvikas Children, was presented with sarees followed by a photograph session with Bhagawan.