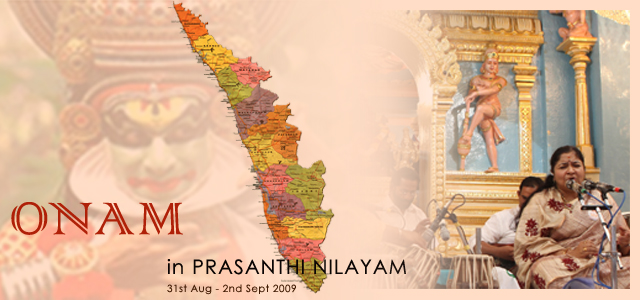 Bhakta Thukkaram
Dance Drama on the life of Sant Thukkaram
Posted at 0215 hrs. on 2nd Sept 2009
From the life of Shankaracharya to the life of Sant Thukkaram, from the doctrine of Advaita to the efficacy of Namasmarana…On the 1st September evening, it was Maratta flavor all over in the first half of the second day's programme. The evening witnessed a dance drama on the life of Bhakta Thukkaram, staged by the students of Sri Sathya Sai Vidya Peeth, Sri Sailam, Calicut.
The drama was a depiction of Thukkaram's unflinching devotion and faith in Lord of Pandharpur, Lord Vittala. The saint who led a devoted life, singing abhangs in praise of the Lord of Pandharpur was oblivious of worldly life and responsibilities.
The drama began with Namadev seeking a special boon from Lord Vitthala to bless him to compose hundred crores of hymns in praise of the Lord. Pleased by Namadev's immense faith and unflinching devotion, Vitthala Himself took upon the task of taking down the notes completing 94 crores and 60 lakhs of hymns followed by another five crores and forty lakhs in Namdev's next incarnation as Durgadas who later became Samarta Thukkaram.
When the house was in distress with the children put to suffer without proper clothing and food, Thukkaram always had one answer to his grieving wife that His Lord Vitthala would take care of everything and he went on singing abhangs propagating the greater efficacy of Namasmarana. To a distressed Dharmapatni, better half, he told in certain terms that he would be ever ready to relinquish anything and everything including her. He advised her to be ever ready to sacrifice anything that comes in between her and the Lord.
When he was caught in a storm in the forest, having lost everything, he cried out to his Lord to come to his rescue and in a trice he was transported back to his place, with abundance. Back home, Jijabhai was happy and was wondering at the miraculous deeds of Lord Vitthala. When she went to her brother's house to repay the debt due to him, she was informed that Thukkaram had already paid off the debt due, with fairly good percentage of interest. To an inquisitive Jijabhai, who suspected unfair means by her husband, Thukkaram convinced her that it was his prayers in distress that brought His abundant grace upon the family.
To an emotional Jijabhai, Thukkram advised her to maintain her state of steadfast devotion in surrender to the Lord. However, hard times hit the family once again. Seeing her husband completely oblivious of family responsibilities, always engaged in Namasankirtana, Jijabhai grew ever more anxious and worrisome.
On an Ekadashi day when a distressed one came and asked for alms Thukkaram gave away the lone spare sari belonged to his wife in charity. An enraged Jijabhai questioned her husband's motives, hurling abuse at Vitthala. Abusing that His name was heard and overheard over and over again and that He had bestowed upon them nothing but perennial poverty. She had decided to put an end to her husband's madness. In a fit of rage she wanted to break the idol of Lord Vitthala.
Back in God's realm Lord Vitthala was narrating His consort the drama at Thukkaram's house and advised her to pacify Jijabhai giving her pearls of Divine Wisdom. The Divine Mother came wearing the same sari that was given in charity by her husband telling Jijabhai that she had come to bless her and she was blessed to be the consort of such a great devotee, Thukkaram.
Nightingale Special for The Lord
Music Concert by K.S.Chitra
She is K.S.Chitra, popularly known as the "Nightingale of South India" who lends her voice in the South Indian Film Industry, whose foray into the field of playback singing earned her a distinct name in the Indian Music Industry; The stage was the seat of the Lord in physical, the dais in Prasanthi Nilayam; The occasion was Uthradam, the day preceding to Thiruvonam, Kerala's most important festivity.
…And the popular playback singer would never forget the day when she was abundantly blessed by Bhagawan. On the beautiful evening that preceded the auspicious Thiruvonam, K.S.Chitra was fortunate to share the stage with her Mighty Lord, who was onstage enjoying the programme, to sing a collection of selected devotionals.
Starting off with Ganesha Vandana she had a string of ten songs that included one bhajan, a fruitful mix of variety songs including carnatic pieces that exhibited her rare talent of weaving vocal magic.
The songs included, Madhura Mukhada Sai Natha…, Bhaavayami Gopala Baalam….. Jai Jai Jai Jai Sai Janani…, Aalarey Giridhara Gopal…, Pashupathi Thanaya Vighna Vinashaka…, Krishna Nee Begane Baaro, Koi Kahiyo Re Prabhu Awan Ki etc… followed by the popular Prasanthi Bhajan "…Chittha Chora Yasoda Ke Bal, Navaneeta Chora Gopal"…
During one of her earlier visits to Prasanthi Nilayam, in the mid nineties, she had an opportunity to sing in an unscheduled programme held in His Divine Presence at the Poornachandra Auditorium. And along with many other popular devotionals she had sung the same bhajan, "Chittha Chora Yasoda Ke Bal…"
Hers was melody that sounded soothing, often touching lower tones, suddenly pitching up to ecstatic heights, a sign of devotional ecstasy, bringing the audience spellbound with what one could call the 'Nightingale Special' for The Lord. The packed audience gave the singer rounds of applause when, one after one, she came out with a variety mix sung with elan.
After the programme Bhagawan spent quite some time with the singer talking and blessing her. Her seven year old child, Nandana, was specially called on stage at the instance of Bhagawan. Bhagawan materialized a gold chain for the little one and presented sari to the singer and safari pieces to the accompanying artistes. Bhagawan most lovingly posed for photo session making the day a most memorable one in her life.