Published on Friday, Aug 20, 2010 at 2115 Hrs. IST

Region 94 of International Sai Organisation, comprising of countries from Middle East and The Gulf began their Sai Pilgrimage 2010 in a unique style responding to Bhagawan's call to serve the humanity by organizing a programme distribution of "implements that could earn a living" for selected beneficiaries from villages around Puttaparthi.
The group that came in with a force of 1200 had their first 'outing' in the Divine presence on the 12th August evening with the distribution programme. Proceedings for the evening began with the officials seeking Divine blessings for the commencement of the distribution programme. An introductory speech by Shankar Shetty, Regional in-charge for Oman region followed before Prof. Anil Kumar took over the proceedings, speaking on the uniqueness of the service endeavours of Sathya Sai Seva Organisations, Worldwide. Implements, namely, solar lamps, sewing machines, tricycles, water filters and mixers were distributed to over 85 beneficiaries from Puttaparthi and nearby areas.
The second programme for the evening was a cultural programme, entitled "Divine Songs From Turkey" by devotees from Turkey. Starting with three Omkars followed by a Ganesha Bhajan, the troupe sang almost a dozen songs for the next fifty minutes before winding up with a melodious number that had an infectious refrain "Sai Ram Baba... Om Sai Ram".
Bhagawan, who paid close attention to the troupe while gliding past them during the Darshan round gave away clothe presentations to the mini-group, sarees for women and safari pieces for men.
Continuing from the 12th evenining, the 13th evening, Balvikas children from the group presented a programme titled, "Prema Tarangini", meaning Ocean of Love. The participating centres were, Abu Dhabi, Dubai, Sharjah, Kuwait, Oman, Bahrain, Qatar and Saudi Arabia.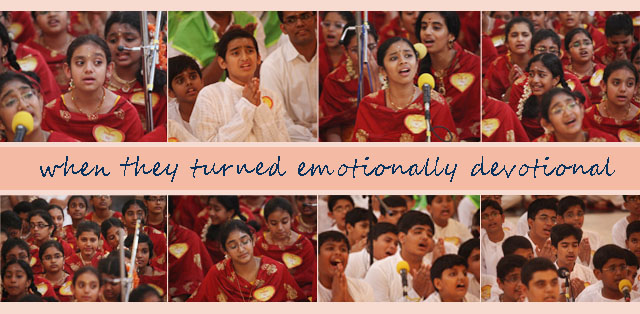 Starting with Sainatha Ashatakam, these children went on singing another five hymns for the next 25 minutes before the seniors took over for the next half-an-hour singing melodious bhajans. At the end of the children programme Bhagawan blessed one boy in the groupVibhuti Prasadam and a golden chain.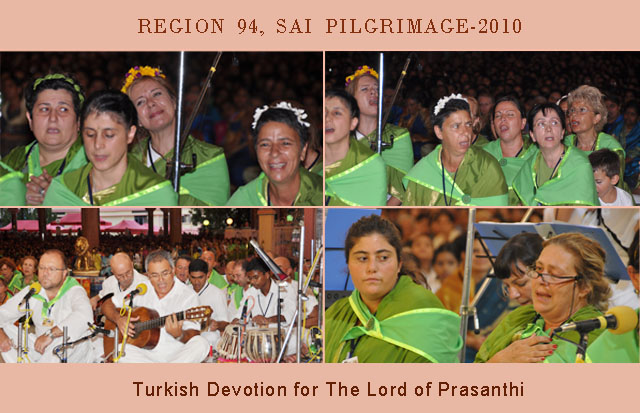 Helping the Ashram to ease the rush in the canteens, this contingent had taken up the responsibility of their food arrangements for both lunch and dinner, arranged to serve in a temporary shamiana erected at the western end, next to the culvert gate. Volunteers from the group would organize to group themselves, collecting food items from north indian canteen for lunch and western canteen for dinner to serve independently by the group without taxing the sevadal force. Utensils etc. would be washed and deposited back in the canteens by these dedicated group members. It was indeed a unique exercise by the "Region 94" in serving the ashram force while serving themselves.