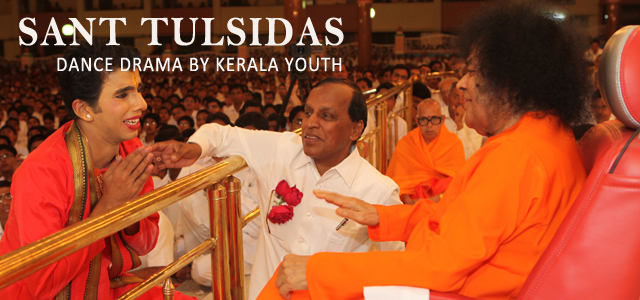 Posted at 1030 Hrs. on 5th Oct 2009
A Dance Drama by Kerala Youth on 3rd Oct 2009
Just within a month from the Onam celebrations in Prasanthi Nilayam, a batch of around 2000 Youth from Kerala arrived in Prasanthi Nilayam on a Parthi Yatra to celebrate the proximity of the Lord in physical. Sublime themes in most simplistic style has become the hallmark of Kerala presentations over the years and keeping up this 'tradition' the Youth from the state had a musical dance drama entitled "Sant Tulsidas", on the illustrious life of the philosopher saint Goswami Tulsidas lived over 450 years ago.

Tulsidas, the poet, the philosopher, the saint and more importantly a celebrated devotee of Lord Sri Rama is considered to be one of the best poets ever to have graced the land of Bharat. He was considered to be the reincarnation of Sage Valmiki born with the mission to spread the nectarous story of Lord Rama in the language of the common man.
One word spoken by his wife brought him a realization of his true goal and he persisted with his 'killer-instinct' to achieve his goal, to have the darshan of Lord Sri Rama. The dance drama began in the backdrop of this illustrious incident.
Infatuated with his wife Mamathadevi, suffering from pangs of separation even for a day, Tulsi followed her to her father's house despite his mother's consoling and pleading that she would come the next day and he should not venture in the dead, thunderous, rainy night. At her father's house Mamathadevi was equally uneasy, at being away from her husband. She was lovingly teased by her friends for her part of suffering of separation. During the conversation, her friends advised her difference between love and lust, mentioning names of celebrated women of Bharat reminding her that a real wife is a Sahadharmini. Grasping the rightful advice of friends Mamathadevi prayed to God to free her husband from infatuation and his craziness for worldly pleasures.
In the meantime Tulsi, wading through the dreadful night reached out to Mamathadevi. Having heard Tulsi's narration of the trials he had undergone to reach out in the dreadful night Mamathadevi advised him the greatness of Brahmacharya and the precious nature of human life. She went on commenting that instead of attachment to her filthy body, if Tulsi had a fraction of that love for God, he would have attained liberation. These words hit Tulsi like an arrow and he was a changed man ever since. He made a bold declaration that then onwards he would see his wife as his Guru and Mother, which was received with shocks by Mamathadevi. Grieve stricken, she pleaded at his feet, but Tulsi was adamant, this time he was smitten by his heartfelt love for Lord Rama. He became totally detached to be an ascetic. And he was relentlessly after Rama for his darshan.
One day, with the touch of Tulsi's holy feet, a genie that was in the form of stone under a curse, got liberated. And the genie was ready to grant any boon. Tulsi, whose goal was fixed had only one boon to seek and that was to show him the path to Lord Rama. The genie revealed to him that Hanuman would be coming at a particular place in Kashi everyday to listen to the nectarous story of His Master, Lord Rama and Hanuman could help him to find a solution to his puzzle.
At the ashram Tulsi recognized Anjaneya in the guise of a frail old man; the old man laughed and ridiculed at him for having identified him with Hanuman! Persistence with heartfelt devotion finally yielded result and Anjaneya revealed himself to Tulsi and promised him to help having Lord Rama's darshan.
Hanuman, having promised Tulsidas, proceeded to Vaikunta and requested Lord Vishnu to grant Tulsi the darshan of Lord Rama. Explaining to Hanuman that He had granted darshan to Tulsi in various other forms and it would take its own time for Him to grant Tulsi the darshan of Rama, Lord Vishnu appeared not appeasing. Relentless pursuance by Hanuman met with continuous test from Lord Vishnu who was relishing in testing his faith and confidence.
Finally after several attempts at Maha Vishnu, Hanuman declared that it would a disgrace to His Master Lord Sri Rama, if he failed in accomplishing the task of granting Lord Rama's darshan to Tulsidas as promised. To keep up his word and thus to avoid disgrace upon Lord Rama, Hanuman sought permission to lift up Vaikunta and transport the same to Kashi. Pleased by Hanuman's staunch devotion, faith and self-confidence, Lord Vishnu decided to put an end to His leelas granting Tulsidas his long cherished dream of Darshan of Lord Rama.
Upon attaining darshan of Lord Rama, Tulsi desired to leave his mortal coil, but the Lord advised him to perform his assigned task teaching Bhakti Marga (the path of devotion), spreading His story, upon which he would be granted liberation.
Immensely pleased with the presentation, the cast had a wonderful time with Bhagawan on stage. He called out various characters in groups to have separate photo sessions, onstage, upon which He moved down the stage to have a group photo with the entire cast. Bhagawan spent quite some time chatting up with the Youth promising, assuring and giving away Himself to their dedication and devotion. Entire cast was presented with safari pieces. Arathi was offered and prasadam was distributed before Bhagawan retired to Yajur Mandiram.