Fatal fate stared at her for a moment in a car accident before she was miraculously saved by men who responded to an 'anonymous' call...a thrilling account by Muriel J Engle of Santa Barbara (from Sanathana Sarathi 1979)
Once again, my humble thanks to Baba for Life, for preservation, and for the miracle of close protection. A midnight return from visiting a friend brought me down mountain Drive, just up beyond the Mission in Santa Barbara, a very narrow road, a dark night and a light drizzle: An unyielding wall made of huge rocks rose sheer on my left, black limbo down the canyon on my right. The car was moving too fast; I geared down. Still too fast, approaching a spot known as "suicide curve". Not enough rain to wash off the slick, I noted. I touched the brakes, and the car skidded. Heavier braking, wheels seemed to lock, as if no brakes at all! I could not believe what was happening. Over the curb, and then time slowed as motion accelerated. Everything in me screamed, "No, No! No... Baba!"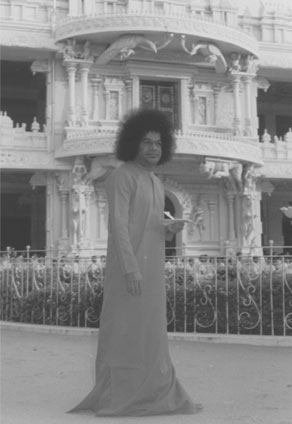 The car lurched, skidded, banged, leaped, but did not roll over. A huge limb loomed, and I thought "decapitation." But the car slipped under and I heard the heavy branch and leaves brush roughly over the top. Another lurch into black abyss and light showed a great tree coming head on, but a slip to the left which smashed both doors on the driver's side veered the car slightly to the right to miss the tree and wedge me between the trunk and a large rock. I could hear glass crashing, but it blew out, not in. Just a few very small flying splinters struck my face, to make me aware of my good fortune, I guess, at no disfigurement. A sudden stop, motor still running, full tank of gas under the right side of hood—no explosion.
I turned off the motor; no lights. It was not quiet—all the noises of the night tuned loud and, below, the rush of Mission Creek, the boisterous frogs and the crickets. Gingerly, I moved arms, legs, body. I was shaking, but whole. The door on the driver's side swung out but I could not tell where I would drop if I stepped out, or whether I would dislodge the car, which now and then shuddered a little. In a quavering voice, I heard myself say aloud, "Oh, Baba, Baba, I can't handle this myself. What will you do with me?"
The dash clock said one or two minutes after midnight. I could not see any escape, in any direction; no mark where I come down the embankment, or how I could get out; no clue to where the road was which I had left so abruptly. The car was tipped uncomfortably to the left but slowly I reached for my personal things that had been thrown violently around the car, including my slippers which had apparently detached. I could not see or hear any signs of civilisation near me. There had been no other car on Mountain Drive when I went over the edge. I expected, then, to stay there until daylight.
The clock showed almost 12:20, when suddenly a powerful light beamed down from about 45° above me. I moved carefully to the right door, rolled down the window and called for help. I could hear male voices behind that big searchlight and when they had determined that I was alive and uninjured, they identified as police officers—told me the Fire Rescue Team was on the way. I watched the first man come down on a security chain, then three others followed. It took half an hour with a winch and four firemen to bring me up on a safety litter and when they stood me on my feet on the road, no one, including myself, could believe I was intact.
"How did you find me, or even know where or how to look for me?" I asked the officer bringing me home. "I got the radio call from the station at 12:11. Somebody must have called in." Because I was anxious to personally thank whoever reported the accident, the officer called his headquarters when we arrived at my home. Looking at me, he shook his head, with the telephone in hand, "An anonymous call," he said. "Man or woman? I asked. "Couldn't tell," and he hung up. "Why, would anyone make an anonymous call in a situation like this?" I queried. The Officer shrugged "Many don't want to get involved, I guess" I walked behind the officer to the door, then distinctly heard the words in my head, "I am involved."
Baba, with all my heart I am grateful, and I thank you. I solemnly pray that for whatever reason you chose to save me, I will cooperate 100%.
Several times since, I have awakened re-living that terror—but the calm comes when, again, I hear the words, "I am involved."