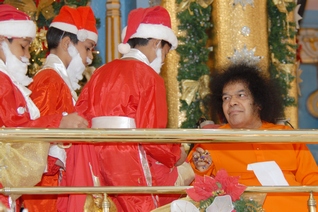 How often do you get to ask Bhagawan some of the most intricate questions seeking clarification? Late Ms. Peggy Mason, an ardent devotee of Bhagawan from the United Kingdom had an opportunity to seek Divine clarification on some of the most intricate things about Jesus in a series of three consecutive interviews granted by the Lord. …and thus after 2000 years of his advent, humanity got to hear the Divine Whispers revealing the truth …Excerpts from Ms. Peggy Mason's article The Interviews, published in Sanathana Sarathi, Sept 1980.
The Questions
I wished I had asked Swami more questions. Yet when one really thinks about it, many questions which leap to mind regarding past events are of academic interest compared to the here and now, and the living reality of the divine principle incarnate in Sai Baba at this most crucial period of the planet's evolutionary history. There was, however, a question which was most vital to us - to hear from Swami's own lips - and Ron "plucked up courage" to ask it.
"Swami, you are reported as saying, on Christmas Day 1972, that Jesus said: 'He who sent me among you will come again. His name will be truth. He will wear a blood red robe. He will be short, with a crown (of hair).' Does this mean that it was you who sent Jesus into incarnation?"
With ineffable simplicity, never moving his eyes from Ron's, and in his soft, gentle voice, Swami nodded and said, "Yes."
Ron took a deep breath. "Then, in that case, are you what Western Christians call `The Cosmic Christ'?" (the Cosmic Christ spirit)
Again came that simple, gentle reply, "Yes."
As long as I live I shall see His face as He gave this answer in a manner no ordinary human being could assume—so direct, so simple, so gentle, and completely egoless. For a few moments we said nothing, overcome by the impact of His reply.
Everywhere men and women of goodwill are expecting and praying for the Second Coming of the Cosmic Christ spirit. But whether they recognise it or not, it is here amongst us in the embodiment of selfless love.
Carols in the Rain
The most touching darshan I have ever witnessed took place this Christmas Eve, in the late afternoon. Thousands of devotees from all over the world had gathered to spend Christmas with Bhagawan Baba. It had been threatening rain all day and by darshan time there was a steady drizzle.
I gazed across the darshan line and saw a sea of people sitting in the rain. There was absolute silence; no one stirred. They all sat, soaking in the rain, as water dripped from their heads to their faces. Each one was determined to have Swami's darshan.
Their love seemed to touch the heart of Swami. He came out on the verandah, looking at all these apparently "God-Crazy" people sitting in the rain. Bhagawan moved from beneath the sheltered verandah, walking ever so slowly in the rain, giving us darshan, and letting us know' by His action that He is always experiencing every thing in life with us. Not once but twice He walked past - showing us that for each deed we do for Him, He blesses us twice.
The wet crowd all dispersed after darshan, and re-appeared in clean clothing for bhajans. The rain had stopped in the interval. The Overseas Devotees' Christmas Choir sat in front of the Mandir prepared to sing carols during the allotted Bhajan time. All the overseas devotees sat together next to the choir. Swami filled the verandah with all the boy students and placed His red chair amongst the children, at the western edge of the verandah facing the choir.
It began to rain. The more it rained, the stronger the voice of the choir determined to go on with the programme. Swami swayed and tapped with His hands to the rhythm of the songs. He seemed to enjoy us all sitting in the rain at His Divine Lotus Feet.
When the choir finished their programme, Swami signalled us to continue by singing Bhajans. After arati, one person said, "We have had a complete Baptism!"
In between darshan and bhajans my eyes fell on this quote: "When I sprinkle your face with rain and wash the earth, the first smell of clean rain, I am cleansing you - THINK OF ME!"