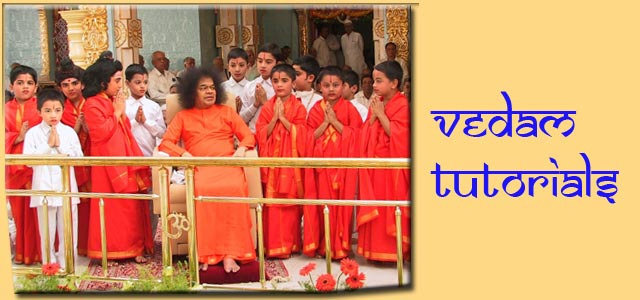 Sri Chamakam Learning Module
Dear Brothers and Sisters,

SAIRAM!

This is a humble endeavor from Sri Sathya Sai Books & Publications Trust to extend, the drive initiated by Bhagawan to teach Rudram to students and devotees across the world. After the overwhelming feedback we obtained for the Rudram Learning module, we decided to further offer other popular Sukthams with a similar learning structure.
The pdf files in this website needs Adobe Reader 9.0 or above. You may download the latest version from the Adobe Website.
Please be advised that, while you are permitted to download or print tutorials from our website for your personal non-commercial learning, any further copies of these pages saved to the disk or to any other storage medium may only be used for subsequent viewing purposes or to print extracts for personal use. No part of this tutor may be reproduced or transmitted to or stored in any other website, nor may any of its pages or content or part thereof be disseminated or linked to any other website/URL in any electronic or non-electronic form nor included in any public or private electronic retrieval system or service without our prior written permission.

We request you to post your valuable suggestions and feedback to: enquiry@sssbpt.org to help us to serve you better.
Samastha Lokaah Sukhino Bhavantu
We greatly value your review. Kindly spare a few minutes to fill in the feedback form.

Click here to go to the Sai Spiritual Showers - An e-Journal with consummate practical wisdom suffused with Bhagawan's own words delivered to your inbox every Thursday - page